Thanks for the spiritual blockage clearance.
I realise I have a clearer and wise direction in handling my ancestral trauma.
Help and guidance has been pouring into my mind to work on better outcome or solutions.
Thank you.

What would you tell others about me?
very beautiful coach with a kind soul
Why did you decide to have life coaching with me?
because you have a kind personality
What specific goals or challenges were you having?
bring myself to another level in life
How has your experience working with me been? What difference has it made? What would you say my approach is like? (you can be brutally honest!)
super good, i am now able to manage my work, family and personal life to another trajectory.
What would you tell others about me?
You are an amazing coach and someone who will hear u out
How has your experience working with me been? What difference has it made? What would you say my approach is like? (you can be brutally honest!)
A few tips have helped me heal myself
Sheer divinity brought me … to Abelene's workshop. She is beautifully human, very real and relatable and has such a light energy about her. We are all beings who are a work of progress but she really makes the learning, the discovering, and walking with your shadow feel like a joyous reality! The workshop is well-paced and is an environment where you can ask to repeat something and she does so patiently and calmly. Across the two days, the workshop evolves at a natural pace and is a gentle way to open your consciousness. You feel respected, honoured, supported and safe at every step of the way, which is important. She makes you feel comfortable and has no judgement, just care and love. The natural sunlight, cool environment and intimacy of the workshops worked wonderfully. Bring a big water bottle, you'll be releasing, so drink lots of water, you can refill it at the water dispenser at the space. Overall, I'd love to attend another workshop by Abelene and feel I have learnt so much in the past two days, a weekend well-spent!
Thanks so much for this weekend of sharing! I found it useful and that you held space in a safe, loving and patient way. The pace of the class was just right and what was shared was simple enough to be used in self practice after.
Just want to share that I'm grateful for the weekend journey of self-discovery, self-acceptance, release and forgiveness that I experienced … I now feel lighter and have a clean sheet to start all over … I felt more empowered and is now more "switched" to a positive note.  I feel my life is going forward again.  Thanks Abelene for this journey to put us back on track to a happier life ahead.  I'm grateful to you.  Do continue your good work and to touch/spur many lives ahead.
A workshop that reminds me of the importance of self-love and gratitude. Will definitely apply what has been taught daily. Thank you for the guidance and keep on going!
Thank you Abelene for two wondrous and wonderful days of healing journey
Thank you for this affirmative experience. You have facilitated us this wonderful, memorable experience of being open, spontaneous, free expression of self-issues, feelings, new learning. You are personable, approachable and patient; the right personal qualities to facilitate. We have learned, you have achieved the goal to help your students to heal. Thank you very much.
I feel enlightening of myself being and awareness of my feeling. I enjoyed the workshop session.
Life changing experience. Thank you Abelene, you are doing a wonderful service helping people release their anger, guilt and fear.
Better in affirming myself. More confident.
The workshop with Abelene was a magical experience. It helped me to relax my mind and introspect on my negative patterns. The 2nd day of the workshop was very impactful and helped me let go of a lot of emotions/fears and instilled in me a new energy. My nerves and body feel very calm and the two day workshop made me realise the importance of "ME TIME". Abelene is a wonderful trainer who is very soft, gentle and nurturing. I felt as if I have known her for long and she made the workshop very easy. Thank you Abelene for such a wonderful weekend.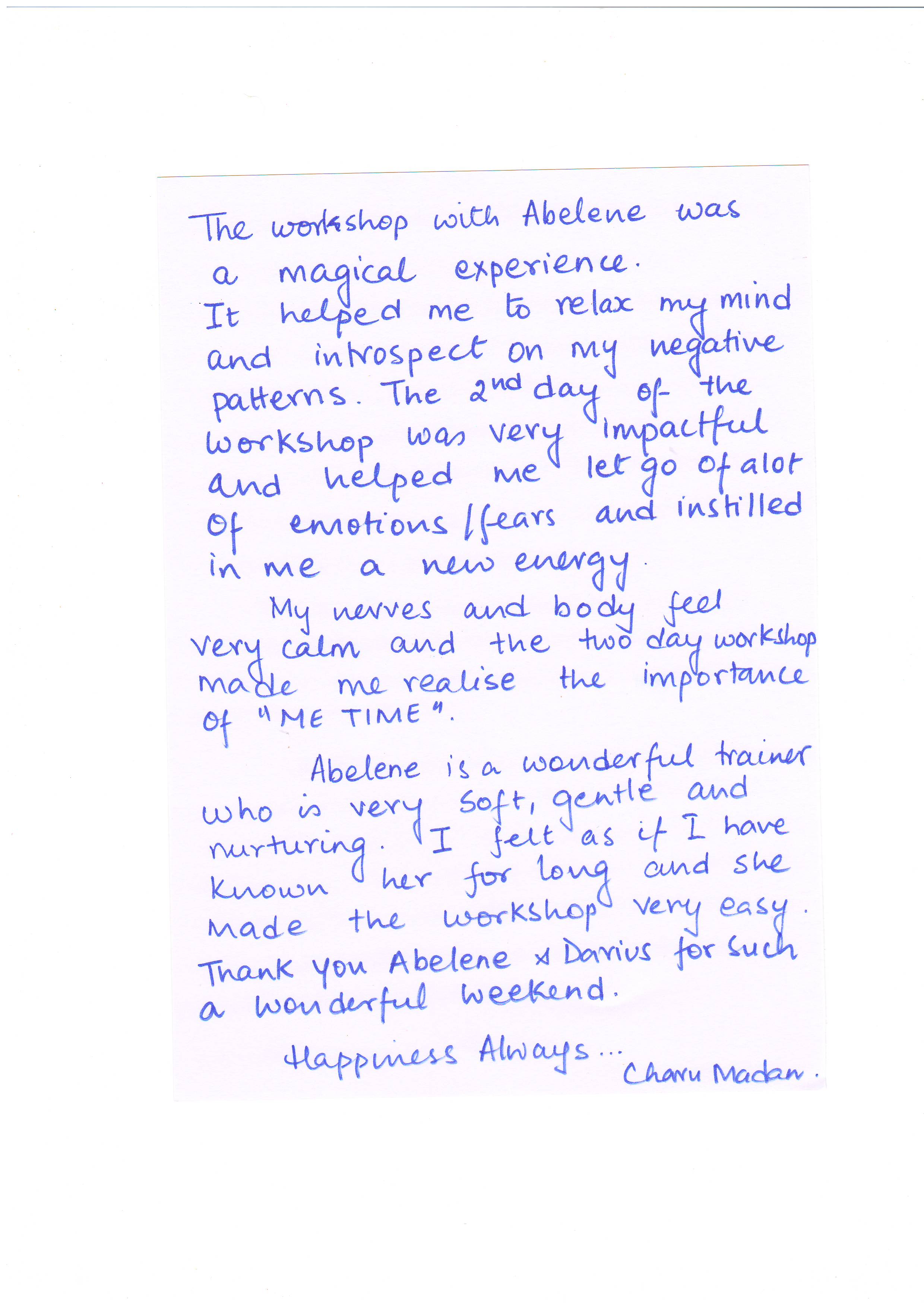 The exercise from this workshop has allowed me to get in touch with the deeper me. I address some of the issues that I previously was resistant to address by writing them down. I learn to do my own affirmations and it's the first step I take to heal myself.
Thanks for sharing all the wonderful affirmations. I had learned how to love myself and others, forgive and accept what others did to me. I'll use the affirmations and create new affirmations for people surrounding me including myself. You are a wonderful person who helped us realise what we been through. Thank you Abelene.
The Heal Your Life Workshop has enabled me to feel more at ease and loved. I am very glad to have been able to attend this Heal Your Life Workshop and share all my experiences with the others and also learn more about their life experiences/lessons with compassion and kindness. The connection with others brought joy into my life and it has been really touching as well.
The Heal Your Life Workshop has enabled me to feel more ease and loved.
An experiential workshop and journey with a map of self. It is a journey to learn to affirm, love, forgive and accept. A place to seed amazing thoughts for a wonderful life.